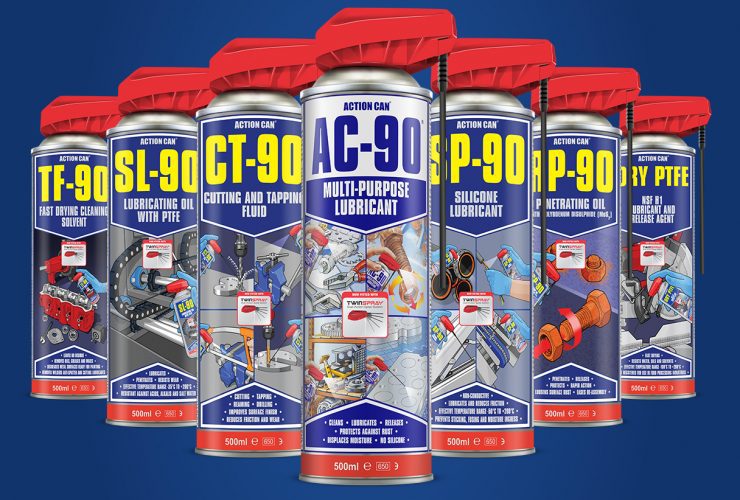 TwinSpray: Designed For Professionals
- July 22nd, 2020
First launched in 2018, Action Can's TwinSpray was released with the best-selling AC-90 Multi-Purpose Lubricant. Following its international success, and as part of our product development process, six additional products have been added to the TwinSpray range to provide a complete professional tool-kit: CT-90, DRY PTFE, RP-90, SL-90, SP-90 & TF-90.
TwinSpray: Designed For Professionals
TwinSpray's iconic extra tough, red, professional grade actuator has a fixed-in-straw – making it impossible to lose. Designed with the professional user in mind; TwinSpray's recessed button prevents accidental discharge during transport or use, reducing waste, and improving safety. Never ask a professional to use anything else!
Other features on the expanded TwinSpray range include:
Dual position straw, which allows precise application – precision jet (up) / broad spray (down)
Non-slip ridged button
Straw-stop to prevent over extension
Locked-on TwinSpray actuator, it won't get knocked off
CT-90 is a specially formulated lubricant, designed to work under the extreme pressures experienced during the cutting of hard steels.
For use when: cutting, tapping, reaming, drilling. Improves surface finish. Reduces friction & wear.
NSF H1 PTFE Lubricant and Release Agent is a multi-purpose, dry film PTFE lubricant which forms a clean, dry film with effective anti-stick properties, low environmental dust/dirt adherence and good resistance to water, oils and solvents.
Fast drying. Resists water, oils & solvents. Effective temperature range -100°C to +200°C.
RP-90 is a rapid acting penetrating and release fluid with added MoS2, for easier re-assembly. The thin film oil protects against corrosion and loosens surface rust.
Penetrates, releases, protects, rapid action, loosens surface rust, Eases re-assembly.
SL-90 is a lubricating oil formulated to provide excellent temperature and pressure resistance. The addition of P.T.F.E. further reinforces the oil film and extends the lubrication period for metal to metal contact.
Lubricates & penetrates. Resists wear. Effective temperature range -35°C to +200°C. Resistant against acids, alkalis & salt water.
SP-90 Silicone Lubricant is a blend of high purity silicone oils for use where a clean, colourless, non-conductive lubricant is required to prevent slicking, fusing and moisture ingress. SP-90 can be used in numerous application areas throughout the electrical, plastic processing, plumbing, metal working and sewing/upholstery industries.
Non-conductive. Lubricates & reduces friction. Effective temperature range -50°C to +200°C. Prevents sticking, fusing & moisture ingress.
TF-90 is a fast drying, solvent based cleaner which can be used to remove contaminants such as oils, greases and waxes from mechanical parts. TF-90 is ideal for degreasing metal surfaces in preparation for painting and for removing welders anti-spatter and cutting lubricants.
Zero residue. Removes oils, greases & waxes. Degreases metal surfaces ready for painting. Removes welders anti-spatter & cutting lubricants.